Absolute Floor Sander Hire
Hire a professional floor sander, from a professional floor sanding company
Absolute Floor Sander Hire - By delivering both excellent service and quality artistry, we can ensure our customers are 100% satisfied from start to finish. Our team are highly knowledgeable and motivated to deliver the best experience to every client.
Over the years our company has won several Industry Awards. However, we are more motivated to protect our future clients, so they receive the best service rather than resting on past laurels.
Floor Sander Hire - What We Offer
The latest specialist "dust free" floor sanding equipment, including several years of floor sanding experience. We are a leading supplier of floor sanding equipment servicing the hire and rental industry, including contractors and the professional market.
Specialising in all floor sanding, refinishing, and wood floor laying projects allows us to deliver superior service across the board.
Featuring a wide range, we aim to meet all of our clients' needs. If you are unsure which floor sander, polisher or other floor sanding products you need, we can provide trusted advice. Additionally, we offer flexible hire rates; this means you can hire on a daily, weekly or monthly basis. We also offer a special weekend rate.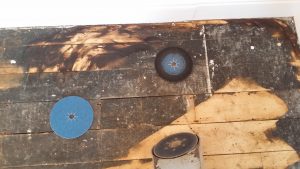 All unused abrasives fully refundable
Absolute Floor Sander Hire Tools
This Flexi drum is an extremely lightweight, easy to use floor sander. Making it a perfect choice for a first time floor sander, or somebody not too confident with DIY.
The orbital sander has many uses, however the most ideal use is for sanding stair risers. The velcro backed sanding discs make for a quick and easy change of sanding abrasives.
This corner belt sander, is a powerful sanding machine capable of getting into those tricky to reach areas, and is ideal for corners
The Frank Viper is a "dust free" belt floor sander suitable for sanding all wooden floors, including parquet, and is ideal for a beginner or a professional.
This Floor Sanding Edger is an extremely powerful edge sander. It has easy to use velcro-backed discs and picks up dust better than most edge sanders on the market. It's equipped with a lamp for better visibility and is easy to operate.
The Trio Finishing Sander is the ultimate "Dust Free" Finishing Machine. Extremely easy to use and the velcro backed sanding discs makes changing abrasives very quick and easy